EUSchool European School of Leadership
Home ›
Spain ›
EUSchool European School of Leadership
Why Choose EUschool?
If you are looking for a training, flexible, online, but with live virtual classes, with the possibility of an international face-to-face week, with a personalized follow-up, forming part of a select group of professionals of international origin, with a practical and immediate application training in your professional performance, taught by recognized experts and with a good relationship of quality with price, EUschool is your choice.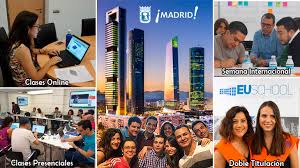 About us
We are a team of professionals with a long career, passionate about training, with a clear vocation to transmit our experience and practical knowledge to other professionals who are interested in acquiring the ability to lead and lead responsibilities in their companies in order to promote themselves professionally. or develop your own business idea. Our motto is: "Training from professional to professional" .
European School of Leadership
EUSchool, is a Business School, based in Madrid, whose objective is to offer quality international training at affordable prices. Our students choose us because they have:
Excellent quality relation with the price .
Small groups with a very personalized follow-up.
A team of highly recognized professors in their professional performance.
Fully practical training, of immediate application in their professions.
Blended learning mode, combined with distance classes with a short face-to-face period in Madrid (1 or 2 weeks).
International groups of professionals who are enriched in their training process.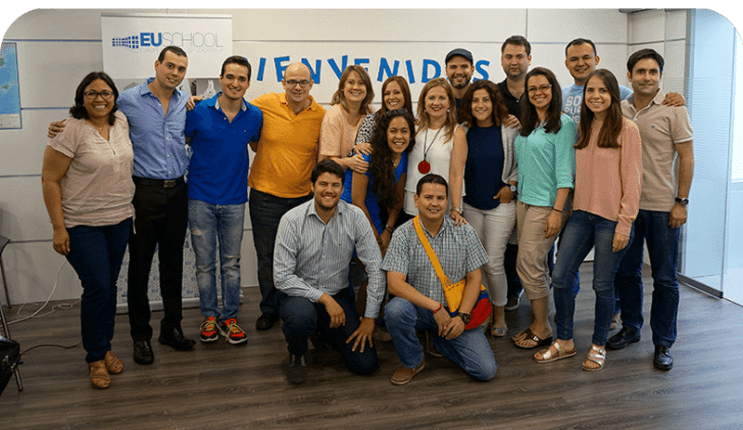 Location

The two Euschool offices are located in the Salamanca district, considered the most exclusive area of the city, and a few meters from the Castellana, Madrid's main financial district, near the Santiago Bernabéu stadium.

Facilities

EUSchool, has comfortable and functional facilities, emphasizing the conditioning of the classrooms where face-to-face sessions are taught.

Faculty

The most valuable asset that EUSchool has is its team of trainers, with a long professional career. Selected with great rigor, their stay in school is subject to excellent results in the satisfaction survey that students respond.

Values

At EUSchool, first of all we form a family, where we grow professionally, but also personally. We create very close ties between all the members and we communicate and help each other constantly.
Locations
Madrid
Address
C/ Diego de León, Nº, 47 / Av. Brasil, Nº, 6
28006
Madrid
,
Community of Madrid
,
Spain