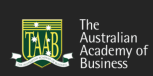 The Australian Academy of Business RTO #32138
Home ›
The Australian Academy of Business RTO #32138
The Australian Academy of Business is a Registered Training Organisation (RTO #32138) committed to quality learning outcomes pursued in an environment where everyone is valued and respected. We pride ourselves on our holistic approach whilst working closely with students, employers and industry.
Our education and training are underpinned by core values that guide our workplace.
Integrity
Integrity through forthright and honest dealings
Innovative, flexible and resourceful with solutions
Respect
We respect individuals because people matter
Market-driven - we listen to our clients
Passion
Committed to continuous improvement
Outcomes-oriented - we deliver with passion
OUR VISION
To be an innovative and leading-edge Registered Training Organisation (RTO) in Australia.
OUR MISSION
To offer an excellent learning experience that inspires our students to graduate and be the best they can be.
OUR CORE VALUES
Integrity
Competence
Commitment
Respect
Excellence
The Australian Academy of Business – Who are we?
We are a Registered Training Organisation (RTO) by the Australian Government
Fully Accredited and Nationally Recognised
We are a member of ACPET
Member of the Business/Higher Education Round Table
We are a private educator – Not a TAFE
Business and Management Studies are our speciality
We are more than a college, we are an Academy
More than 2,000 students and growing
Our Head Academy is based on the Gold Coast, Australia
We also offer workplace traineeships, school-based traineeships, Certificate 3
Guarantee, User Choice funding, and corporate training
Our Group have been in operations since 1986
We are the fastest growing RTO on the Gold Coast
We pride ourselves on ensuring our students complete and achieve results
We accommodate different learning styles and get the best out of our students
Every student is allocated an experienced trainer to assist in their studies
Ample student support – we "love on" our students and encourage them
User-friendly online e-learning study system
Trainer and Student Support via phone, email and online, Facebook, immediate actioning during business hours
5-day turnaround for marking
Extensions considered on request
Locations
Nerang
The Australian Academy of Business
Address
2 Palings Court
4211
Nerang
,
Queensland
,
Australia
Programs
Currently no programs to display
Please refine search above, check out our popular categories below or perform a keyword search.
... or simply by choosing your degree: