Master in
MS in Information - Online
University of Wisconsin-Madison - The Information School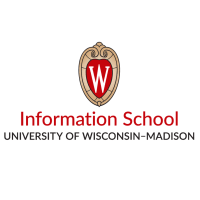 Introduction
The MS Information provides master's level education for adult students seeking entry into data/information management and some applied computing professions. The MS-Information will give students the opportunity to obtain both the technical skills needed to understand information and data systems and the critical thinking, design and communications skills to govern and critique them. This degree is appropriate for students with or without a bachelor's degree in computing or related fields.
The MS Information is a STEM-designated program with CIP code 11.0401 Information Science/Studies.
Students in this program are not eligible for teaching assistant, research assistant, or project assistant positions at the University of Wisconsin-Madison.
The Program Offers
Expert faculty who are accessible and responsive in class;
Friendly, supportive, and collaborative community of learners;
Students progress together through the cohort model;
Flexibility for a full or part-time program of study;
Preparation for a variety careers;
Real-world experience through a required internship course;
Highly regarded career services and professional placement rates.
What Is Online Learning Like?
Courses in the online program are delivered using cutting-edge technology tools customized to course content and the instructor's teaching style. Regular interaction occurs among students and instructors in weekly modules via interactive learning assignments, discussions, team projects, and virtual meetings.
Curriculum
Concentrations Within The MS Information
Our 30-credit program includes several different concentration areas, including User Experience Design/Interaction Design, Analytics for Decision Making, and Information/Data Management.
MS Program Requirements
The Information Master's curriculum comprises 30 credits. Requirements include four core courses, one ethics course, and an internship course.
Required Courses
All students will take the following four courses for a total of 12 credits.
LIS 705 Intro Analytics for Decision Making
LIS 751 Relational Database Design
LIS 615 Systems Analysis & Project Management
LIS 732 Strategic Information Services
Ethics Course
All MS students must complete at least one ethics course for a minimum of 3 credits. Choose from:
LIS 461 Data & Algorithm: Ethics and Policy
LIS 661 Info Ethics
Internship
In addition to the courses listed above, students are required to complete an internship.
Electives
Students continue by completing one of three concentrations: User Experience Design, Data Analytics/Data Management, or Distributed.
UX Concentration Recommended Electives (12-13 credits):
LIS/CS 611 UX 1 User Research
LIS/CS 612 UX 2 Ideation and Design
LIS/CS 613 UX 3 Testing and Evaluation
LIS/CS614 Capstone (1 credit)
Data Analytics or Management/Governance Concentration Recommended Electives (12 credits):
LIS 706 Data Mining Planning and Management
LIS 707 Data Visualization and Communications
LIS 711 Data Management for Information Professionals
Distributed Concentration
Students pursuing a distributed concentration must complete at least 12 credits of electives from the courses listed above in the UX and Analytics concentration electives or from the approved Information School electives listed above. Students may include a maximum of 3 credits of approved external electives from the list below.
Approved Information School electives:
LIS 460 Surveillance, Privacy, and Police Powers
LIS 500 Code and Power
LIS 510 Information Security & Privacy
LIS 517 Digital Health: Information and Technologies Supporting Consumers and Patients
LIS 616 Electronic Records Management
LIS 632 Metadata Standards and XML
LIS 645 Intellectual Freedom
LIS 646 Information Architecture & Interaction Design
LIS 658 Publishing, Knowledge Institutions, and Society: E-Revolutions?
LIS 663 Introduction to Cyberlaw
LIS 875 Topics in Information Processing and Retrieval
LIS 999 Independent Reading and Research
Approved External MS Information electives:
Students may count a maximum of 3 credits from the below list of external electives toward the MS Information degree. Not all electives are available all semesters. Not all external electives are available online.
Computer Science: CS 319 Data Programming; CS 570 Human-Computer Interaction
Design Studies: DS 341 Design Thinking for Transformation
Industrial Engineering: ISYE 349 Introduction to Human Factors; ISYE 552 Human Factors Engineering Design & Evaluation
English Language Requirements
Certify your English proficiency with the Duolingo English Test! The DET is a convenient, fast, and affordable online English test accepted by over 4,000 universities (like this one) around the world.