Bachelor's in
Degree in Management and Public Administration at a Distance (online)
University of Oviedo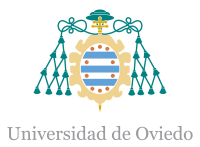 Introduction
The Degree is taught entirely at a distance. The training activities are all of a non-face-to-face nature, except for the optional external practices and the final evaluation tests of the subjects, which will require the student's physical presence to carry them out. Study materials will be published through the virtual campus of the University of Oviedo, classes will be taught by videoconference, forums will be monitored and virtual tutorials will be held, with the simultaneous participation of students. Depending on the subjects, the continuous assessment activities may reach 20% of the grade and will be carried out through the active participation of the student in the activities proposed within the virtual campus.
Admission profile
Space limit: 40
Recommended Baccalaureate with the University entrance exam passed: Humanities and Social Sciences.
Recommended higher degree training cycle: Administration and Finance
Access Test for people over 25, 40 or 45 years old.
University degree.
It is advisable for the student to show a vocation for public service, interest in performing management tasks, responsibility and commitment to daily work, ease of handling and understanding legal texts, ability and interest in the use of ICT.
Professional outings
Graduates will be able to develop their work in the following areas: Bodies of Middle and Higher Management Technicians of Public Administrations, managers of autonomous bodies, public business entities and public foundations.