Master in
Master's Degree in Human Resources Management and Management
UDIMA - Universidad a Distancia de Madrid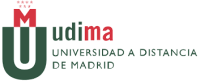 Introduction
More and more frequently, companies implement new organizational models based on their human capital as a competitive difference.
Modern human resources management requires the presence and action of qualified specialists in the field, a task that should fall to those who have received specialized training in the broad framework of human resources.
In response to this demand, the Distance University of Madrid ( UDIMA ) offers the official title of Master's Degree in Human Resources Management and Management, the study plan of which is published in BOE number 141 of June 13, 2013.
Its objective is to get professionals with the general and specific skills necessary to integrate and develop people within the business project of which they are part, seeking their commitment to it, thus contributing to the differentiation of the company and its sustainability.
It is a qualification with multiple professional possibilities: self-employment, employed work or civil servant activity at the service of Public Administrations.
Addressed to
The title of "University Master's Degree in Human Resources Management and Direction" is aimed particularly at University Graduates, Graduates or Graduates in the branch of Social and Legal Sciences, without prejudice to the fact that University Graduate students from all branches of knowledge may Access the Master in order to obtain a professional specialization in the field of directing and managing people in organizational settings, as well as a practical and competitive profile in that context.
It is important to clarify that this training program does not require prior experience in the specific field of Human Resources, but is aimed at university graduates who demand high-level training that allows them to achieve professional projection in this area, in companies and organizations or in public administration.
Main objective of the Master
The educational objective of the University Master's Degree in Human Resources Management and Management by UDIMA is to train students to be highly qualified professionals in the field of human resources management and direction within organizations, providing them with a practical profile and the necessary tools to carry out your work as a human resources professional with a guarantee of success, seeking your commitment to the business project and thus contributing to the differentiation of the company and its sustainability.
The Program offers specialized training, either to complement previous university training, or to enable retraining or the development of human resources and labor relations professionals.
The specific objectives of the Master are:
Offer comprehensive training to those who intend to develop their professional activity in the field of human resources both in its legal-labor aspect, developing labor relations policies in a company, as well as in its direction and management of people in the organization .
Obtain specialized training in the main policies, methodologies and tools that, at present, are essential for an effective direction and management of people in an organization.
Knowing the complexity and dynamic and interrelational nature of individual and collective labor relations, and knowing how to carry out the procedures that operationalize the organization's labor obligations, as well as knowing and using labor legislation in a professional and practical way.
Teaching system
UDIMA training model is based on distance education, making intensive use of Information and Communication Technologies (ICT) to facilitate the educational process.
UDIMA learning evaluation system contemplates carrying out and, where appropriate, overcoming different types of activities. The percentage weights established to evaluate the activities of each subject will be described in detail in the file of each module or subject contained in the teaching planning and will be established from the maximum and minimum established in the following table:
| | |
| --- | --- |
| Participation in learning activities | ≥ 10% |
| Controls | ≥ 10% |
| Continuous Assessment Activities (AEC): | ≥ 20% |
| Face-to-face final exam (*) | ≤ 60% |
| TOTAL | 100% |
(*) In order to pass certain subjects, the student must take a compulsory final face-to-face test aimed at verifying the skills and knowledge acquired during their development.
In all subjects there must be an academic monitoring of the student through the qualification of didactic activities based on the characteristics of the European Higher Education Area.
Methodology
The UDIMA methodology is based on a distance learning system that promotes continuous assessment and "learning-by-doing" in an environment of closeness, accessibility and real-time interaction between the teacher and the student, through information technologies. and communication.
The teaching-learning process is developed through Virtual Classrooms in which students have at their disposal a Teaching Guide with the planning of the subject. The teaching methodology ensures the acquisition of knowledge and professional and personal skills through a continuous assessment system embodied in didactic activities, self-assessment questionnaires and a final face-to-face exam.
To promote the study and training of the student, the following training actions are developed:
Study the Didactic Units through the didactic material made available to the student and designed for online study: manuals, books, articles and other bibliography related to the subjects under study.
Develop educational training activities through assumptions, practical cases and questionnaires, using the tools of online teaching platforms.
Carry out activities that involve the search and management of information.
Prepare studies, reports, projects that launch professional skills.
Offer a tutorial action at the permanent disposal of the student that allows a correct teaching-learning process, using follow-up strategies such as online or telephone tutorials.
Develop an evaluation process in continuous action that allows the reorientation of the learning process.
Carry out curricular and extracurricular internships in specialized centers to achieve the professional skills of the degree.
Promote research capacities through didactic strategies such as project formulation, data analysis, study of results, drawing of conclusions and handling of bibliography.
Develop oral presentation skills and defense of academic papers using the possibilities of office automation teaching tools.
Professional outings
Due to its relationship with the world of work, UDIMA works actively to detect the training and skills most in demand in the current labor market.
The Master in Direction and Management of Human Resources trains, among others, for the following professional opportunities:
Managers or Human Resources Technicians in any company or private or public organization.
Consultant or Technician in Human Resources (Selection, Training, Personnel Administration, Communication, Work Environment ...).
Development manager.
Responsible for Compensation and Benefits.
Head of Talent Management.
Head of Personnel Administration. Head of Labor Relations.
Area Coordinator (Labor, Personnel Administration, Selection, Training).