Bachelor's in
Bachelor in Leadership and Team Working (Online)
Schellhammer Business School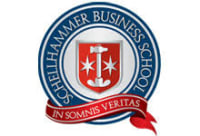 Introduction
The Undergraduate Level 4 (Leadership and Team Working – 120 credits equivalent to the first year of a University Degree) and Level 5 (Extended Diploma in Management – 120 credits equivalent to the second year of a University Degree) are programmes designed to offer students the maximum flexibility of online and on-campus study.
Students can choose to complete their second and/or third and final year of an associated Undergraduate degree in Leadership and Management, on-campus at Schellhammer Business School or a UK university. A variety of alternative distance learning options also exist.
Each module consists of approximately 40 guided learning hours of material with an additional 30-50 hours of optional learning material. These materials comprise recommended exercises, recommended readings and internet resources.
Recognitions
Qualifi Recognition

As a recognized UK awarding organisation regulated in England by Office of Qualifications and Examinations Regulation (Ofqual), Council for the Curriculum, Examinations and Assessment (CCEA) in Northern Ireland and Qualifications Wales (QW), Qualifi is able to give assurances to registered centres and learners of consistent, rigorous, quality standards and valid, valued learning.



ATHE Recognition

Awards for Training and Higher Education provides centres with a wide variety of qualifications including, but not limited to; administration management, business, tourism, law, computing and health and social care. ATHE have made a name for themselves with exceptional customer service, excellent quality standards and rewarding qualifications with progression routes to university degrees.
Curriculum
Level 4 Module Listing
Managing People in Organisations
Culture and the Organisation
Developing Personal Skills
Effective Communication
Managing Ethically
Performance Management
Strategic Human Resource Management
High-Performance Teams
Leadership Skills
Motivating and Influencing People
Level 5 Module Listing
The Entrepreneurial Manager
Organisation Structures
Practical Accounting Analysis
Business Planning and Goal Setting
Politics and Business
Business Law
Managing in Today's World
Performance Management
Marketing and Sales Planning