MSc in
MSc Operations and Supply Chain Management (Online)
Rushford Business School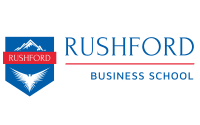 Introduction
Rushford's MSc in Operations and Supply Chain Management (SCM) ideally positions you to thoroughly understand production and manufacturing processes, the flow of goods and services, inventory control, inbound and outbound shipping, and production scheduling. In the last couple of decades, economic and political shifts have colossally modified established supply chain management protocols. Disruptions in international trade have led to new approaches in warehouse management, leading to technology-led innovative solutions to streamline complex processes and gain a competitive advantage.
Given this business scenario, pursuing a professional course in SCM is befitting. The program will inform you about new approaches and innovative solutions to supply chain management, enhancing your expertise in globally-proven principles and practices. You will learn about a range of techniques suitable to operations strategies in contemporary organizations. However, it does not limit your employment only to logistics and supply chain sectors; instead, it paves the way to senior-level positions in other areas such as tourism, transportation, healthcare, manufacturing, etc.
It is high time to have an exciting career by immersing yourself in our top-notch real-time projects, capstone projects, seminars, and workshops. Expert trainers and mentors will appease your curiosity to the best level and provide you with ample chances to explore this field by giving a detailed insight into the subject matter. Our holistic program will shape your overall personality, enabling you to impress employers by showcasing creative, problem-solving, and analytical skills. You will become ready for high-demand job roles such as supply planner, data scientist, and demand planner. The shortage of skilled professionals in these fields will open up rewarding avenues for you, promising immense growth and development in your personality and career.
Ideal Students
Who Is This Program For
MSc in Operations and Supply Chain Management is ideal for:
Graduates (of any discipline) wishing to pursue an advanced course in operations and supply chain management.
Professionals seeking managerial or more senior roles in reputed multinational companies.
Entrepreneurs looking forward to enhancing their expertise in business operations, specifically in supply chain management.
Curriculum
Rushford's 60 ECTS (One-year) MSc in Operations and Supply Chain Management comprises 15 courses – 5 Core Courses and 10 Operations and Supply Chain Management specific courses.
To be qualified for 60 ECTS MSc, you must complete all 15 courses. Each course comprises of 4 ECTS.
90 ECTS top-up program (18 months) takes you to an advanced level in Operations and Supply Chain Management field. It provides you an opportunity to choose another 5 of 10 electives in Operations and Supply Chain Management related field along with a Master thesis of 10 ECTS.
120 ECTS top-up program (24 months) provides you an opportunity to research in the field, and allows you to choose another 5 courses with a Capstone Consulting Project of 10 ECTS.
MSc Top-up Programs
MSc in Operations and Supply Chain Management also allows an option to top-up programs for 90 ECTS and 120 ECTS.
Generally, it is recommended for Bachelor students with no work experience to opt for higher credits.
Higher credits are also recommended for those who wish to be an expert in field as top-up programs allow you to master the chosen area. 90 and 120 ECTS programs provide you access to advanced level specialised courses along with an opportunity to write Master Thesis, or a Capstone Consulting Project respectively.
Our flexible program structure for Online mode of study permits you to choose for top-up programs after completing 75% of your studies by contacting your Student Success Manager. For On-Campus programs, we recommend that you decide for the program tenure at time of admission.
Our Rushford online programs provide you flexibility to complete the degree in an extended duration of 3 years without payment of an additional fee.
Program Outcome
After completing the course, learners are able to:
Acquire a robust knowledge of existing supply chain challenges.
Learn lean manufacturing processes experientially by integrating theory with practice.
Develop strategic thinking in handling business management issues, emphasizing supply chain management.
Innovate to improve existing supply chain processes by applying Big Data, artificial intelligence, and other technological solutions.
Comprehend cross-cultural procurement situations, and implement feasible approaches to address the same.
Apply statistical analysis, economic approaches, and financial models in business decision-making.
Develop a multi-pronged outlook by identifying business operations at a global level.
Career Opportunities
79 percent of companies achieve more significant revenue with the help of their high-performing supply chain management systems.
81 percent of supply chain professionals state that analytics is essential for cost reduction.
The criticality of supply chain management has further increased in the post-pandemic era because of the need to boost employment and optimize production processes. This changed business scenario is likely to increase the demand for SCM experts in the coming years. You have an excellent scope to join reputed companies, such as Microsoft, Apple, Amazon, McDonald's, Unilever, etc. You can become a supply chain analyst, business manager, commercial manager, supply chain planner, or transport officer. With top-notch theoretical knowledge and hands-on experiences, you can have a satisfying career entailing continuous learning and enrichment.