MSc in
MSc Economics (Online)
Rushford Business School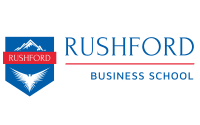 Introduction
MSc Economics Program trains you in technical areas of economics, such as FinTech and econometrics. The program extensively focuses on quantitative or statistical methods for decision-making, economic remodeling, and inference-based data. A distinguishing feature of this course is that it blends all relevant fields ranging from the economic policy perspective, financial perspective, and industry outlook. You will gain an in-depth understanding of advanced economic theories and strengthen your skills in current topics relevant to modern business needs. For example, China's Belt and Road Initiative has been included as an elective to make students aware of the ongoing development project and its economic relevance for China and other nations.
The program has been designed comprehensively to give you excellent intellectual returns. Practical projects and seminars will facilitate high-end discussion, and participation in group tasks will prepare you for contemporary industry requirements. You can join the various sectors, such as economic consultancies, central banks, and reputed financial organizations, as per your interest and professional objective.
Ideal Students
Who Is This Program For
Graduates desiring a specialization in the field of Economics
Learners seeking career paths that include analytical, financial, advisory, managerial, and research-oriented work.
Professionals looking forward to honing their skills in economic remodeling and forecasting.
Professionals seeking senior leadership roles in government policy initiatives.
Curriculum
Rushford's 60 ECTS (One-year) MSc in Economics comprises 15 courses – 5 Core Courses and 10 Economics specific courses.
To be qualified for 60 ECTS MSc, you must complete all 15 courses. Each course comprises of 4 ECTS.
90 ECTS top-up program (18 months) takes you to an advanced level in Economics field. It provides you an opportunity to choose another 5 of 10 electives in Economics related field along with a Master thesis of 10 ECTS.
120 ECTS top-up program (24 months) provides you an opportunity to research in the field, and allows you to choose another 5 courses with a Capstone Consulting Project of 10 ECTS.
MSc Top-up Programs
MSc in Economics also allows an option to top-up programs for 90 ECTS and 120 ECTS.
Generally, it is recommended for Bachelor students with no work experience to opt for higher credits.
Higher credits are also recommended for those who wish to be an expert in field as top-up programs allow you to master the chosen area. 90 and 120 ECTS programs provide you access to advanced level specialised courses along with an opportunity to write Master Thesis, or a Capstone Consulting Project respectively.
Our flexible program structure for Online mode of study permits you to choose for top-up programs after completing 75% of your studies by contacting your Student Success Manager. For On-Campus programs, we recommend that you decide for the program tenure at time of admission.
Our Rushford online programs provide you flexibility to complete the degree in an extended duration of 3 years without payment of an additional fee.
Program Outcome
After completing the course, you will be able to:
Use Economic theories for nation-building.
Gain specialized knowledge in various fields of Economics.
Communicate novel research findings to benefit people and communities.
Understand economic issues in the national and international context, and make a significant contribution to knowledge.
Gain a thorough understanding of core economic principles and their application to real-world issues.
Master relevant tools to critique and create economic research.
Articulate pragmatic policies to enhance the well-being of people.
Career Opportunities
$22,000 is the increase in earnings if you major in Economics- a study conducted by Forbes.
Your salary after completing college significantly depends on the major you have pursued. Economics is a technical stream that can cause a massive difference in your earning potential. Economists Zachary Bleemer and Aashish Mehta conducted a study and identified that an economics major raises earnings by 46 percent ($22,000). Thus, it is one of the best investments a person can make.
An Economics major will unlock your access to high-paying industries, such as finance, accounting, and insurance. They can also tap other sectors, including education, healthcare, automobiles, IT, etc. Some of the rewarding career options are:
Financial Analyst
Mutual Funds Manager
Policy Analyst
Economist
Litigation Consultant
Data Scientist
Statistician
Pricing Analyst
Budget Analyst