MSc in
Online MSc Information Systems Management - University of Salford (UK)
Robert Kennedy College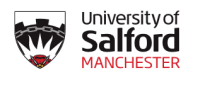 Introduction
This course gives you an opportunity to develop a detailed understanding of the role of information systems and technology (IS/T) in businesses around the world, along with a critical awareness of current and emerging issues in this continually developing sector.
You will learn from our expert team and external guest speakers, renowned for their specialist knowledge. You will also enjoy the programme's emphasis on debate, critique and interaction with other students and staff.
On completion of your course, you will have the necessary skills to become an effective IS/T manager with strategically valuable capabilities in IS/T.
Curriculum
Duration
Minimum 12 months, maximum 3 years.
Delivery Method
100% online via OnlineCampus (an interactive online learning environment) with intensive class discussion and collaboration.
Places
The number of places per term is strictly limited to 90.
Terms
Four terms per year (winter, spring, summer and autumn).
Rankings
Accreditation and Recognition
This degree is awarded by the University of Salford, which received a Royal Charter in 1967 from Her Majesty the Queen. The University is fully recognised by the British government; The University of Salford degree transcript will mention Robert Kennedy College as your teaching institution.
Get more information about the programme here!
Program Outcome
3 good reasons to study Information Systems Management:
Developing critical thinking and employability skills in high demand from a range of employers.
Put Information Systems theory into real practice with an exciting Business Innovation Project.
Benefit from a course backed by cutting-edge research in Information Systems at Salford Business School.