MA in
MA in Engaged Humanities
Pacifica Graduate Institute

Scholarships
Explore scholarship opportunities to help fund your studies
Introduction
MA in Engaged Humanities
Engaged Humanities and the Creative Life Classes begin online early October We offer a Masters in Humanities (with one 4 days residential each quarter) designed for the challenges of the 21st century in making people creative, more responsive to changing paradigms and technology, more authentic, grounded, psychologically healthy, insightful, intuitive and effective.
Engaged Humanities and the Creative Life
Hybrid Humanities Masters Degree (with four residentials per year)
Our world is characterized by ecological and social challenges as well as technological change. Only a community with exceptional creativity skills can thrive in such conditions. Pacifica's M.A. Engaged Humanities and the Creative Life is a Masters in Creativity that is specifically designed to enable students to become employees and citizens who can meet these challenges.
The Creative Life
With a framework of Jungian psychology, this hybrid Masters in Humanities fosters creativity in a uniquely effective way by drawing upon those aspects of the human psyche neglected by the constructs of post-industrial western modernity. The 21st century needs far more than the highly rationalized and mechanistic thinking perfected in the industries and sciences of the twentieth. It also needs the imagination, capacity for the new, intuitive insight into other cultures and what is not yet fully known, the ability to dream and especially the ability to engage in deep and free-flowing creative collaboration. Expanding creativity is the core of the degree by offering a Masters in Humanities that is oriented to the creative imagination, meaning the talent for making new, for re-thinking traditional structures, for deep listening to what is said and unsaid, for generating images for the not yet known or conceived, for the ability to work so intensely with others that shared visioning and collaborative worlds are made and re-made. This Masters in Creativity is for those who want to be artists, and artists of their own lives. It is above all for those who want to be artists of our future world.
A Unique hybrid Program
Therefore our unique hybrid Masters in Humanities and Creativity program has three foundations: the humanities as engaged in making culture; depth and Jungian psychology treating the psyche or soul as an intensely creative organ, and creative practice as a way of developing being human and engaging with the world. For all who want to realize their creative potential in the twenty-first century, the M.A. Engaged Humanities and the Creative Life seeks those of you who want to join a creative program not so much of the world; but for it! Students go on to live and work more creatively, or foster creativity in themselves and others including anyone in the visual, performing, narrative, studio, and media arts; the creative side of advertising, marketing, and product development; teachers of art, literature, and the humanities; or professionals in fields such as architecture, interior design, fashion, and the film, television, and music industries.
Students in the M.A. in Engaged Humanities & the Creative Life program:
Discover strategies for tapping into the deep well of the psyche as a source of creativity.
Study how people working in any creative capacity inspire and influence each other.
Increase their generativity and cultivate their aesthetic sensibility and sensitivity by being in constant conversation about the creative life with faculty and peers, with great literature, classic films, and works of art spanning diverse genres, cultures, and periods of time.
Find rich sources of inspiration in the humanities, including the study of mythology, philosophy, psychology, history, literature, and ecology as they affect the art and craft of living and working artfully.
Complete two substantial creative projects and reflect upon their creative process.
Receive a degree that expands their vocational options and opens up new career possibilities.
"Pacifica's M.A. in Engaged Humanities and the Creative Life enables you to conceive and incubate your own creative project either drawn from professional life in the world, or from your desire to live more authentically. Come and learn with us arts practice enhanced by the creative psyche and the ecological humanities."
Susan Rowland, Ph.D., Chair of the M.A. Engaged Humanities and the Creative Life program
Curriculum Overview
Engaged Humanities and the Creative Life Program Format
This hybrid degree program takes advantage of distance-learning technology that allows students to work and learn in their home environments. Additionally, once each quarter, students gather on Pacifica's Ladera Lane Campus for a four-day weekend (Thursday, Friday, Saturday, and Sunday) in a retreat-style residence. During these on-campus sessions, students have access to the Institute's extensive resources and are able to further community involvement and professional collaboration. They join classmates from around the world informing professional relationships and networks of like-minded individuals. This convenient format brings Pacifica's graduate degree programs to global citizens and the life-long learners who otherwise might not be able to fulfill their educational calling. The M.A. program in Engaged Humanities and the Creative Life provides an education in the humanities informed by mythology and depth psychology. The program's unique learning format combines the best aspects of a connected, heartfelt, inter-personal experience with the convenience of distance-learning technology.
First Year
Courses
Creativity and Aesthetic Sensibility - HMC 100, 3 units
Joseph Campbell and the Mythmaker's Path - HMC 110, 3 units
The Complex Nature of Inspiration - HMC 120, 3 units
Creative Influence Across the Humanities - HMC 130, 3 units
The Expressive Power of Archetypes - HMC 140, 3 units
C. G. Jung, Individuation, and the Symbolic Life - HMC 150, 3 units
The Purpose and Power of Image - HMC 160, 3 units
Project Workshop I: Creative Dialogue and Design - HMC 170, 3 units
Second Year
Courses
Active Imagination, Dreams, and Psychic Creativity - HMC 200, 3 units
Mythic Narratives: Eternal Sources and Contemporary Inflections - HMC 210, 3 units
Time, Place, Space, and the Ecology of Creative Expression - HMC 220, 3 units
The Healing Power of Creativity - HMC 230, 3 units
The Artist as Activist and Agent of Social Change - HMC 240, 3 units
The Purpose and Power of the Moving Image - HMC 180, 3 units
Technology and the Psyche - HMC 250, 3 units
Creativity, Vocation and Alchemical Work - HMC 260, 3 units
Project Workshop II: Creative Expression and Reflection - HMC 270, 3 units
Selected Topics in Engaged Humanities - HMC 280, 3 units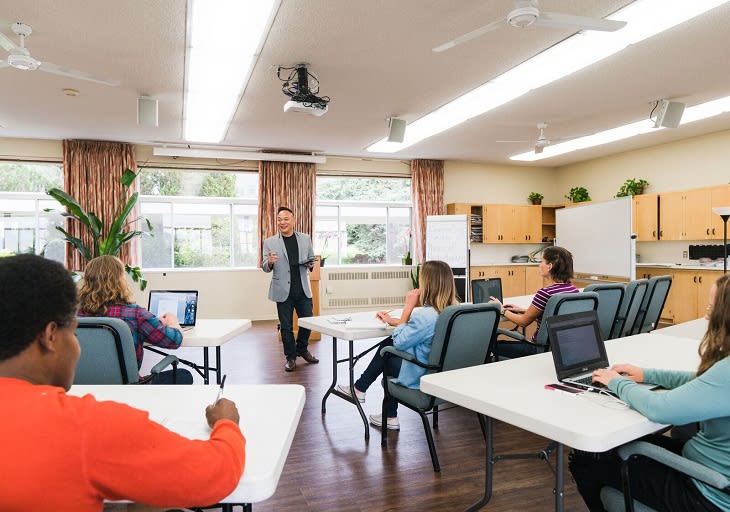 Graduation Requirements
Degree Requirements for Graduation
Students must complete a total of 48 units.
A minimum grade of C is required in each completed course.
A cumulative grade point average of 3.0 must be maintained.
Students must attend at least two-thirds of each course.
Admission Requirements
The program seeks students with a background in social science, humanities, psychology, or the arts, other degrees will be considered. Successful applicants will also display scholarly writing skills and show an interest in the application of depth psychological or mythological principles.
Application Requirements:

Personal Statement (3-5 pages)
Resumé/CV
4-7 page Academic Writing Sample
2 letters with the recommendation form
Official transcripts – must have a bachelor's/master's degree from a regionally accredited or state-approved institution of higher education