Courses in
Digital Business Strategy: Harnessing Our Digital Future Online Short Course
MIT Sloan School of Management (Get Smarter)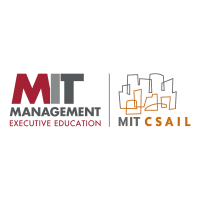 Introduction

Discover the positive potential of digital transformation.
The MIT Sloan Digital Business Strategy: Harnessing Our Digital Future online short course investigates the principles that frame research by esteemed MIT faculty and The New York Times best-selling authors, Erik Brynjolfsson and Andrew McAfee. This program focuses on a unique approach to finding a balance between traditional methods and new ways companies can harness transformative technology to include in their digital strategy and improve best practices.
With an emphasis on enabling an effective digital strategy and pushing digital transformation, this MIT Sloan Executive Education online program focuses on the rebalancing of three key relationships: human minds and machines, physical products and digital platforms, and the core (centralized knowledge) and the crowd (decentralized knowledge). It's through these lenses that you'll explore the potential of disruptive technology for business, equipping you to drive innovation within your own organization. Throughout the online short course, you'll be encouraged to apply your newfound digital strategy business insights to real-life scenarios and ultimately walk away with an MIT digital certificate of completion.
An online education that sets you apart
This MIT Sloan online program is delivered in collaboration with online education provider GetSmarter. Join a growing community of global professionals, and benefit from the opportunity to:
Develop new competencies and earn valuable recognition from an international selection of universities, entirely online and in your own time frame.
Enjoy a personalized, people-mediated online learning experience that supports you every step of the way.
Experience a flexible but structured approach to online education as you plan your learning around your life to meet weekly milestones.
Why choose GetSmarter?
GetSmarter, powered by 2U, is an online learning expert with over 10 years of experience in developing premium online short courses from the world's leading universities and institutions. We are powered by 2U to support you in unlocking your potential through life-changing learning with an immersive and high-touch experience.
We deliver market-led courses that equip working professionals with the expertise required to upskill, reskill or kickstart a completely new career. Through a data-driven approach, we analyze future skills requirements and ensure all courses address this need. We ensure that leading universities and institutions are your expert guides and our people, technology, and resources are your engine – together we power more than just education, we power your potential.
Ideal Students
Is this course for you?
This digital strategy and the transformation-focused online program aims to provide CEOs, managers, C-suite executives, and entrepreneurs with the knowledge they need to analyze traditional business strategy models and adapt these in light of current disruptive, digital technologies. It's also valuable for professionals with strategic decision-making responsibilities across a range of industries. Similarly, it will be beneficial to any member of a senior leadership team looking for a transformation-centered course to stay abreast of how the global business context is changing.
Program Outcome
You'll walk away with:
Practical skills in implementing a digital transformation strategy that draws on the knowledge of MIT faculty, renowned industry leaders, and real-world examples.
The ability to articulate what these disruptions mean for the industry, and create effective business strategies to manage digital transformation.
A foundational understanding of how to harness the power of disruptive technologies by improving operations and increasing business value.
Curriculum
Module 1: Introducing Digital Transformation
Review the practice of traditional and data-driven decision-making in business in the second machine age. Use the Matrix of Change tool to plan a cohesive digital transformation.
Module 2: Artificial Intelligence
Investigate the business applications of machine learning.
Module 3: Platforms in a Digital Economy
Correlate business success in the digital economy with the optimal utilization of key features of digitization.
Module 4: The Platform Revolution
Distinguish between different types of platforms to determine how they may affect an industry and how to employ them effectively.
Module 5: Harnessing the Crowd
Recommend an experiment that utilizes the crowd to address a business problem.
Module 6: Limits to Decentralization
Assess the utility of decentralized technology for a business. Reflect on the changes in company structures and the nature of work that are occurring in the second machine age.
Manage your time
GetSmarter's learning model is designed to help you, as a working professional, improve your skills without compromising on work and family responsibilities. The course work is broken up into weekly, manageable bite-sized modules, with incremental deadlines, designed to help you pace yourself over the duration of the course and allow you the legroom to work when it suits you best.
At the beginning of each module, you'll be presented with the course content and assignments necessary for completion. You also have access to your Success Adviser who will help you manage your time, and support you with any administrative or technical queries you might have.
Career Opportunities
Seek employer assistance
By improving your skills and industry knowledge, you'll have an influence on the success of your organization. Why wouldn't you ask your boss to help you fund your studies if it's going to have an impact on the way you do business?
Of our past students, 37 percent have received financial assistance from their employers. You can ask for help, too.
If you are a Learning & Development (L&D) manager, or involved in training and upskilling for an organization, you can request information regarding our corporate offering on our GetSmarter for business page.