BA in
B.A. International Management
IU International University of Applied Sciences - Online Studies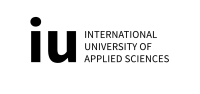 Admissions
Academic Requirements:
Higher Secondary School Leaving Certificate such as A-Levels, IB Diploma including your Transcript of Records.
Proof of eligibility to study a bachelor's degree at a university in Germany.
Depending on your chosen programme, academic level, and background, you might need to also take one of the following to make sure you are ready to study with us:
Bachelor Entrance Examination
Pathway Programme (for on-campus programmes only)
English Level:
Proof of English skills.
If you do not meet the English skills requirements, we offer the free-of-charge IU English Language course. This is available to you if you meet the other admission requirements.
If English is your native language or you graduated from an English-speaking school/university, you do not have to prove your English skills.
Overall English Requirements:
IU English Language course certificate (complimentary when signing up with IU free of charge)
TOEFL (minimum 80 points) or
IELTS (minimum Level 6.0 out of 9 points) or
Duolingo English test (minimum 95 points) or
Cambridge Certificate (minimum B grade overall) or
Equivalent proof
Scholarships and Funding
Save big on your tuition fees and get a free iPad.
Enrol on your online study programme and get a 30-50% special discount, depending on your country. Plus, you'll receive a free iPad.
Don't miss out!
*An EU address is needed to receive the iPad
**Please contact us for more information regarding the discount percentage.
Curriculum
Managers, leaders, decision-makers: companies are always looking for professionals with the expertise to further their growth and success. IU puts major emphasis on practical experience and prepares you for positions such as these – as well as ensuring you gain an international market outlook. Our professors can guide you with expert industry knowledge and help you find a focus in industry that you are passionate about.
1st Semester
2nd Semester
3rd Semester

Academic Integrity and Writing for Business
Business 101
Managerial Economics
Introduction to Academic Work
Principles of Management
Global Corporations and Globalization

Business Mathematics
Organizational Behaviour
Management Accounting
Supply Chain Management I
International Marketing
Statistics - Probability and Descriptive Statistics

Change Management
International Contract Management
Intercultural and Ethical Decision-Making
Intercultural Psychology
International Brand Management
Leadership 4.0

4th Semester
5th Semester
6th Semester

Global Sourcing
International HR Management
Intercultural Management
Corporate Finance and Investment
Corporate Communication
Customer Relationship Management

Digital Business Models
Agile Project Management
Conflict Management and Mediation
Seminar: Current Issues in International Management
ELECTIVE A

ELECTIVE B
Bachelor's Thesis & Colloquium
Rankings
Accredited.
IU International University of Applied Sciences has received system accreditation from EQAR, FIBAA, the German Accreditation Council, the German Council of Science and Humanities, and WES Canada. This means their courses, faculty and teaching material all match the rigorous standards that have been set for them and they can now accredit their own programmes.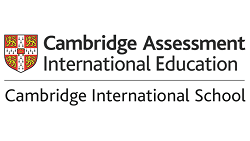 Cambridge Assessment International Education / High School Diploma Study Pathway.
IU is the first online university partner of Cambridge International's high school diploma pathway. By working with Cambridge, IU offers students a special chance to finish their high school diploma while studying for a bachelor's degree. Since they are required for your bachelor's degree, these high school diploma courses are free of charge. The Study Pathway is a unique 12 months course with a 150-hour workload which you take alongside your bachelor courses. The Pathway concludes with an exam that can be retaken an infinite number of times.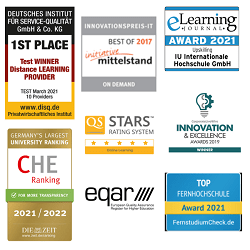 Award-Winning.
In the current CHE ranking (2020-2022), IU tops the Business Administration field in categories of "General Study Conditions," "Contact with Lecturers," "Study Programmes Offered," "Examinations," "Study Organisation," and "Practical Orientation," winning a total of six out of 25 categories and achieving more top category rankings than any of the more than 300 institutions. IU received a 5-star rating for online learning and a score of 99 out of 100 in the QS, Quacquarelli Symonds, Stars Report, making it the first German university to receive such a ranking. It was also given the FIBAA Premium Seal for Digital Excellence and has excelled in 15 out of 23 criteria, including categories like Future Orientation, Knowledge Management, Quality Assurance of Teaching, and retaining the rating for the next five years. It is the only training provider to get the DtGV's Service Award 2022 from the German Society for Consumer Studies given that it has a dedicated academic staff and trained study coaches who ensure that students are supported throughout their studies.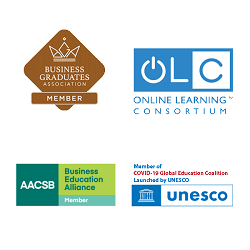 Connected.
IU is a member of the Business Graduate's Association, Online Learning Consortium, AASCB, and UNESCO's Global Education Coalition. These memberships give them connections to other institutions, companies, and NGOs as well as top-tier degree programmes and lifelong learning development courses. By leveraging cutting-edge technology, IU helps students in need to continue their education and pursue lifelong learning.
Career Opportunities
A BA in International Management opens the door to the entire corporate world and will show future employers that you are talented, strategic and adaptable. With sound knowledge in general business management and a specialisation in your preferred area, you can go on to find a successful career in a company and country of your choosing.
Management Consultant
As a management consultant, your job is to advise other companies. The subject of the consultation could be related to the general management of the company, internationalisation projects or the handling of a change process. You will need to tailor your fundamental consulting concept to the expectations and the requirements of your customer, without neglecting the goals of your employer – the consultancy firm.
International Talent Manager
International talent managers support HR teams, helping them search for talents and managers and developing their skills within the company. You will plan and organise new talent across borders and prepare trainees, employees and managers for assignments abroad and international projects. With a special focus on intercultural skills, you will create training programmes, ensure efficient succession from one employee to the next as well as job rotation with the aim of training international managers.
International Brand Manager
As an international brand manager, you will have two main tasks: branding and brand communication. You will ensure that all brand design and messaging is executed perfectly with an effective communications strategy developed in close collaboration with management. You will source and define the right instruments and channels for effective marketing. You will also make sure that advertising campaigns are tailored perfectly to each target audience. This requires a deep understanding of the product world, target groups, intercultural differences and your industry. This is an exciting and creative career at the interface between management, research and development, product, creative departments, sales, service and, of course, customers.