Diploma in
Professional European Chef (PEC)
Horeca Academy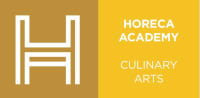 Introduction
You can study to become a Professional European Chef (P.E.C.) wherever you are in the world.
Do you love to cook and do you want to work in the international hospitality industry? As long as you are connected to the internet and have a place where you can practice cooking, you can start this Professional Chef Program. Here is your chance, join our online program and become a Professional European Chef.
Ideal Students
Who is this program for?
Do you want to decide for yourself when, how, and where you follow your training as a chef? We have developed a sP.E.C.ial program where you are in control of your chef's education. Discover our modular form of learning. And decide how far you want to take your education to become a Professional European Chef.
Anyone who wants a career in the professional European kitchen.
Professional chefs who are not yet skilled in the European/French Kitchen.
People who are planning to make a career change and want to learn about the European kitchen in the best possible way.
People who want to follow their own path and want to explore before they fully commit to a whole program.
People all around the world. It does not matter where you live. You can start online from home.
Curriculum
European Culinary Arts Diploma
Professional European Chef is build up in six stages.
E-learning
Cooking assignments
Professional Feedback
Culinary Webinars (free)
Chefs Traineeship
Practical cooking classes
Every stage leads to a certificate. All of the certificates combined are a Professional Chefs level 1 diploma. This diploma is recognized by the Hospitality industry for the European Culinary Arts.
Learn at your own pace. With professional and personal guidance in the comfort of your own home. For the practical course, you are invited to study at one of our Horeca Academy locations.
Stage 1,2 & 3 (Online at home)
Stage 1: E-Learning
Stage one contains a full and professional e-learning program. This digital learning program walks you through the theoretical part of the Professional European Chef program. For this e-learning program, we are working with the digital learning award-winning company 'Knowledge Monk'. 'Knowledge Monk' is well known for its interactive digital learning programs. Learning through interactive play. They make use of a variety of learning methods and use mostly videos and interactive games to guide you through the program. You can use your tablet, computer, or your smartphone for this digital learning program.
Subjects:
Cooking-and basic skills
Cooking techniques
Product knowledge
HACCP (hygiene and safety)
Planning and organization
Preparations (Mise-en-place)
Kitchen interior and organizations
Stage 2: Cooking Assignments
When you are done with the theoretical part of your studies, it is time to practice. In cooking, you learn by doing. Time for the assignments. These 12 assignments are explained through clear instructions and all include a video that shows you how to work. The assignments all involve a cooking skill that you will have to show through a video. We will not grade your video skills but will only look at your cooking skills, techniques, and process.
Stage 3: Professional Feedback
Next to grades, you will need professional feedback to learn. You will be assigned to a personal mentor. This mentor is a qualified teacher of our Horeca Academy. This mentor grades your 12 assignments and gives you professional feedback.
Stage 4: Free webinars (bonus gift)
Stage 4: Culinary Webinars
We think you deserve a little treat when you have finished stages 1, 2 & 3. We offer you free webinars about cooking. Webinars contain masterclasses, but also seminars about wine pairing and professional hygiene. You can attend as many webinars as you want. You will receive a link to our webinars when you have successfully finished the first three stages.
Stage 5: Traineeship (in your own country)
Stage 5: Chefs Traineeship
The traineeship is an important part of your course to become a professional chef. You will have to find a restaurant where you can work as a student chef. You can choose whichever European kitchen you want. Make sure you have the right guidance and that you are able to learn a lot. We will contact you two times (more if necessary) in the months that you are working as a trainee to help you reflect on your progress. You will reflect on your own progress in a reflection report.
Stage 6: Practical cooking classes
Stage 6: Practical Training
The best part of your practice is the practical classes at our Horeca Academy. You will learn the most important skills from our most qualified chefs.
Subjects
Cooking-and new skills and techniques
Product knowledge
No-waste creation
Pastry and ice cream preparation
Plating dishes
This practical course is an intense two-week program (5 days a week). Prices do not include accommodation and transport costs. Please contact us for the best deal on your accommodation.
Location: At the Dutch Horeca Academy in The Hague. The Netherlands.
Certificates and Diploma
To receive the official diploma Professional European Chef level 1, you will need to successfully complete all six stages.
You can start with stage one and work your way through the program. It is also possible to just follow the practical classes at our academy. You will receive a certificate of attendance.
You can start with stage one through five at any moment. Stage six will take place on planned dates throughout the year at various locations of the Horeca Academy in the world. Check our website for the complete calendar.
Duration
Below the expected time per stage:
Stage 1: 3 till 5 hours
Stage 2: 40 - 45 hours
Stage 3: 10 - 15 hours
Stage 4: Webinars 1 hour (we expect to do 1 webinar every 2 months)
Stage 5: Internship, at least 80 hours
Stage 6: 80 hours (two weeks)