MSc in
MSc in Corporate Finance
EDHEC Business School - Online Programs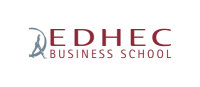 Introduction
Impact strategic decisions using a holistic approach to finance, value creation and performance
In an age disrupted by digital technology and social and environmental changes, businesses need to find new levers to perform and create. To train leaders and professionals to this holistic approach to finance so they are able to handle these transformations and make a decisive impact on a company's strategic decisions, EDHEC Business School has created the MSc in Corporate Finance. Through this program, you will strengthen your fundamental skills in corporate finance and business management, and delve deeper into the financial techniques and knowledge needed to drive a company's financial and sustainable growth.
This master of science in Coporate Finance gives you the keys you need to demystify finance within your organisations and to acculturate other departments to the benefits that the finance function can bring. The objective: show a new way forward for finance, where performance responds not just to financial criteria, but also to non-financial criteria such as parity and environmental impact. At the end of the programme, you will be able to measure the impact of strategic, commercial, operational and financial decisions on the company's value creation.
This is an intensive 18-month program on business analytics, conducted entirely in English.
How does the program work?
11 modules of fundamental courses in business management and corporate finance and 3 electives
1 live online class every week hosted by your academic mentor to review content, encourage discussion and answer questions
Career coaching and consulting project sessions throughout the program
Individual self-paced study time and group work sessions (15 hours per week recommended on average)
Why join EDHEC Online Master of Science ?
EDHEC worldwide reputation in finance (Top 5 Master in Finance, EDHEC risk institute research center...)
Global approach to finance (vs. a program focused on banking or accounting for example)
Access to courses and professors from prestigious business schools thanks to the FOME partnership (Imperial College, Ivey, ESMT...)
Immersive and innovative exploration of CSR issues through a series of online learning expeditions
A powerful and intuitive platform that allows for personalized, interactive training. The platform is also shared with the FOME partnership schools.
Innovative and dynamic learning experience: group work, numerous activities...learning through experience sharing (group work & consulting project), personalized follow-up, real-time feedback
YouDrive : Your personnalised career development programme. Designed specifically for online learning and working professionals with evolving goals, YouDrive is a high-end experience tailored​ to your professional needs​ and goals. Through guided self-introspection and individual sessions with an experienced coach
Choice of electives incl. 1 certificate with Imperial College BS of London
Program Outcome
What will you learn?
The Online MSc in Corporate Finance will arm you with the ability to:
Identify the key value drivers of a company
Analyze a company's competitive position, strategy, and financial performance
Use financial analysis tools to evaluate the performance and assess the value of individual companies
Utilize financial data and valuation techniques to make strategic decisions and analyze their impact on margins, profitability, and value creation
Your EDHEC Business School Diploma
Upon completion of the programme, you receive a diploma by EDHEC Business School which recognises the level of education received and expertise acquired during the training.
EDHEC Business School holds a triple accreditation (EQUIS, AACSB, and AMBA) and is ranked 7th in Europe (Financial Times 2022 ranking), guaranteeing our participants a nationally and internationally recognised diploma.
Curriculum
Management Fundamentals
Strategy
Marketing & Sales in a Digital World
Managerial Accounting
Corporate Finance & Financial Analysis
Corporate Finance
Valuation
M&A Private Equity
Financial Risk
Project Finance
Risk Management
Quantitative and Performance Tracking Tools
Managing Innovation
Supply Chain
Managerial Economics
Elective Courses
You will choose 2 electives* from a range of forefront topics designed to develop your technical and managerial skills (5 weeks and about 35 hours of workload per course):
Strategic Foresight
Ethics and Responsability
Basic Statistics & Coding with R
Bitcoin & Blockchain
(*) Upon availability. Courses subject to change. Consult the brochure for a full list of electives.
Elective Certificates
In addition to the 2 elective courses, you will select one certificate (10 weeks) delivered by our partner Imperial College Business School of London*:
AI startups and innovation
Financial technology: cryptocurrency, Machine Learning, and digital banking
Digital transformation: 5 game-changing technologies for business
(*) Upon availability. Courses and partners subject to change.
Career Opportunities
What can you do with your MSc in Coporate Finance?
The Master of Science in Coporate Finance is a real springboard for your career development. You acquire both hard skills & soft skills and learn how to formulate and communicate strategic recommendations to top executives.
The programme offers a wide range of career possibilities in diverse areas. Whether in the Banking & Insurance, Audit, Education, IT & Telecom sectors for instance, from corporate finance and accounting, to consulting and business development.
After your MSc in Corporate Finance, you can start your career in positions such as:
Mergers and Acquisitions Analyst,
Financial auditor,
Financial analyst,
Credit Analyst,
Sales Manager,
Project Manager in private equity,
Consultant, etc.
Ideal Students
Who is this program for?
This program is intended for professionals who benefit from an initial experience in finance, consulting, accounting, or business development, from young graduates in need of fundamentals to those working in more senior roles and wanting to acquire specialized skills, transition in their career, or earn a diploma from a top business school.
Who are the participants of the class of 2023?
The participants in the MSc Corporate Finance hold a wide variety of profiles and job positions:
13% are managers
13% are project managers
47% are from the banking sector
7% are from the audit and management sector

Scholarships and Funding
Financial Aid / Scholarship :
Early Bird : -15% on tuition fees. For all applications submitted 2 months before the next intake. Scholarships and Early Bird cannot be combined.
EDHEC scholarships up to -40% on tuition fees.