MSc in
MSc in Business Strategy & Analytics Online
EDHEC Business School - Online Programs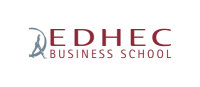 Introduction
Drive business transformation and growth through analytics
In the years to come, the business and economic environments are likely to be marked by a shift to a more sustainable economy, strong growth in digital technology and the continued effects of globalisation, increasing regulation and business oversight. Consequently, the job market will see increasing demand for managers who combine a strategic-thinking mindset with the technical and soft skills required to tackle the new challenges ahead. Business analytics play a critical role in providing the insights needed to make the right strategic decisions and create value in this uncertain and highly competitive environment.
EDHEC Online Master of Science (MSc) in Business Strategy & Analytics trains young professionals, managers and future decision-makers in developing their strategic thinking, using data insights and ultimately building business models that are more sustainable, inclusive and impactful.
This is an intensive 18-month program on business analytics, conducted entirely in English.
How does the program work?
13 modules of fundamental courses in business management, strategy and business analytics
1 live online class every week hosted by your academic mentor to review content, encourage discussion and answer questions
Career development program and coaching, consulting project, online debates and learning expeditions throughout the program
Individual self-paced study time and group work sessions (15 hours per week recommended on average)
Why join EDHEC Online Master of Science ?
A programme that combines business and analytical skills, technical knowledge and business vision to add value to companies and organisations
Designed for active professionals who need to balance their personal and professional lives
An intuitive and powerful platform, accessible 24/7, that allows for personalised, interactive training
Designed for online learning to create a dynamic and immersive experience (FOME Silver award 2022 for pedagogical innovation)​: live lectures, digital content, group work, numerous activities ...
Youdrive : Designed specifically for online learning and working professionals with evolving goals, YouDrive is a high-end experience tailored to your professional needs and goals.
Dedicated academic support provided by an expert in the field (academic mentors: weekly or every 2 weeks)​
A supportive community of learners based all around the world​: learning through experience sharing (group work and consulting project)
Program Outcome
You will learn how to:
Develop your skills in analytic tools and techniques
Enhance your abilities in problem-solving and strategic-thinking
Learn how to identify market trends and customer preferences to make an informed strategic decision
Gain the confidence and expertise needed to lead change within organisations
Your EDHEC Business School Diploma
Upon completion of the programme, you receive a diploma by EDHEC Business School which recognises the level of education received and expertise acquired during the training.
EDHEC Business School holds a triple accreditation (EQUIS, AACSB, and AMBA) and is ranked 7th in Europe (Financial Times 2022 ranking), guaranteeing our participants a nationally and internationally recognised diploma.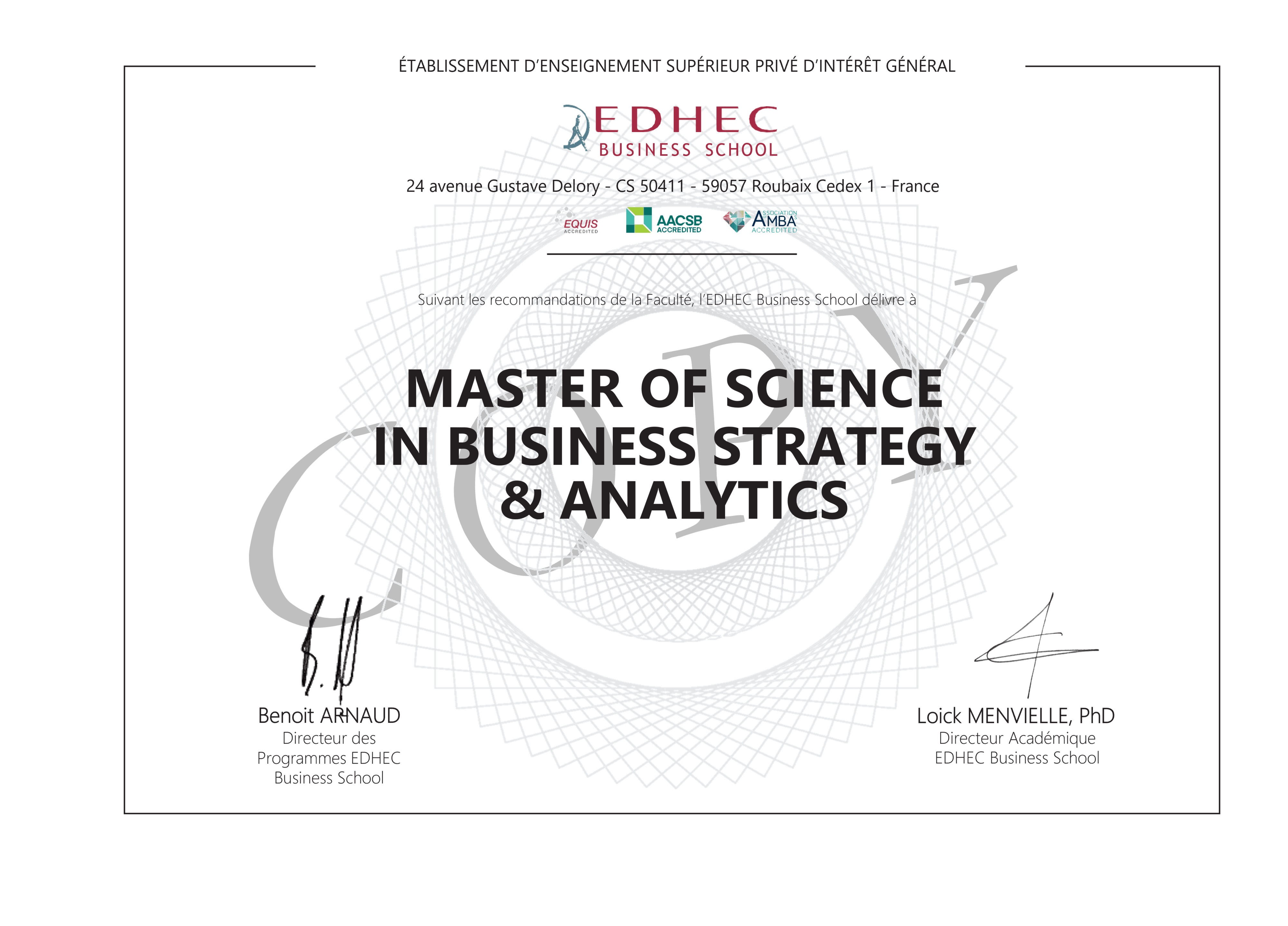 Curriculum
5 groups of fundamental courses :
Creating a Strategic Advantage
Strategy
Strategic Foresight
Developing Customer-Driven Strategies
Marketing and Sales in a digital world (with ESMT Berlin)
Managing Innovation
Marketing Analytics
Managing Resources in a Data-Driven World
Finance & Accounting
Ethics & Responsibility (with ESMT Berlin)
Digital Business Models
Driving Your Organisation in a Digital and Global Environment
People, Teams & Organisations (with ESMT Berlin)
International Business
Data Social Intelligence
Understanding the Environment and Identifying New Challenges Ahead
Macroeconomics for Managers
Data Analytics for Managers (with ESMT Berlin)
Career Opportunities
What can you do with your MSc in Business Strategy & Analytics ?
Thanks to the Master of Science in Business Analytics & Strategy, our participants acquire both hard and soft skills, improve their confidence in working with data and develop their managerial skills for the fast-paced business world.
Graduates from the Online MSc in Business Strategy & Analytics can choose from a host of varied and exciting careers. For example, they can access positions as:
Business analyst
Account Executive
Business Development Manager
Strategy and Operations Manager
Business analytics consultant
Business Strategy Consultant
Management consultant
Strategic project leader
Ideal Students
Who is this Master of Science in Business Strategy & Analytics for?
This MSc in Business Analytics & Strategy is designed for managers, young professionals, and future decision-makers who need to:
Make sense of data insights to improve strategic decisions and lead change
Understand and use analytical tools and techniques
Gain confidence using data to converse with data experts
Scholarships and Funding
Financial Aid / Scholarship :
Early Bird : -20% on tuition fees. For all applications submitted 2 months before the next intake. Scholarships and Early Bird cannot be combined.
EDHEC scholarships up to -40% on tuition fees.