Master in
Master of Christian Counseling (Online)
Christian Leadership University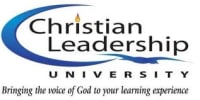 Introduction
Master of Christian Counseling Degree Online
This online course is taught in English only.
Put the voice of God at the center of your counseling and become a vessel of His divine healing power
Are you satisfied with a Christian Counseling Master's Degree program that merely has "a Christian perspective," or does your heart hunger for the ability to minister God's transformational power, and to enable the broken and suffering to hear His voice speak life-giving words of comfort directly to their heart?
Are you looking for a radically different Christian Counseling Master's Degree program? A program with an approach that gets the rational mind out of the way and invites the Wonderful Counselor to come and replace those painful thoughts, pictures, and memories with His positive ones?
If so, then a Master's Degree in Christian Counseling from Christian Leadership University is exactly what you've been searching for.
A Master's Degree in Christian Counseling that's worth far more than the paper it's printed on
We believe that experiential knowledge is infinitely more valuable than detached book learning. All the head knowledge in the world will do you little good if you can't make it work in the real world. That's why every step of the way you will be applying what you learn. Each of our Christian Counseling courses is refreshingly practical and will guide you step-by-step through the processes and techniques that are used.
Why is this so different from every other online Christian Counseling Masters Degree program?
You cannot begin to measure the effect of having God show up and minister His healing power directly to a broken heart. It goes so far beyond the mere Christian principles of counseling that you can attempt to apply by your own strength. The voice of the Lord Jesus Christ and His life-changing power are absolutely essential for the complete and lasting restoration of a deeply wounded heart.
These Christian Counseling courses online are designed to get to the root of the problem, and to effectively facilitate Jesus Himself coming and doing all the "heavy lifting." He alone can eliminate not just the emotional pain itself, but the underlying heart issues that cause each of these inner struggles. God knows the exact origin of every negative thought, attitude, and picture that a heart holds, and He wants more than anything to personally touch and heal these areas.
Curriculum
The fast track to your degree
You are much closer to your Christian Counseling Master's Degree than you realize. Bring in up to 50% of your degree through the combination of transcripts from other colleges and a Life Experience Portfolio. Put your past studies and experiences to good use and earn your Master's Degree in Christian Counseling faster than you ever thought possible!
Earn Your Degree from Home
Obtain an accredited Master's Degree in Christian Counseling 100% through distance learning.
Counseling Degree Fast Start
Earn up to 50% of your Christian Counseling Master's Degree through the combination of life experience credit and transfers from other colleges or seminaries.
CLU is #1 in Revelation-Based Learning
Our unique approach is real life, biblically-grounded, revelation-based learning, authenticated by the voice of God.
Available Courses
COU202 Counseled by God
COU203 Cornerstones of Communication
COU301 Prayers That Heal the Heart
COU305 Parenting for Success
REN103 Communion With God
REN105 Father Heart of God
REN204 Naturally Supernatural
REN206 Increasing the Anointing
REN207 Healing Anointing
REN310 Wisdom Through Dream Interpretation
Master Degrees require a total of 40 credits beyond a bachelor degree. Students enrolling in a Master program will need to submit an official transcript for their bachelor degree.
If your undergraduate (i.e. bachelor) degree is in an area of Bible or ministry, or is from a Christian school and included courses in Bible or ministry, and you have additional transcript credits which are not part of your bachelor's degree, you will have the option of bringing in up to 10 credits toward your master's degree through transcripts from other schools or documented life experience. If your undergraduate degree is in a field unrelated to spiritual knowledge, all 40 credits must be earned from CLU.
After you take REN503 Communion with God, you will be allowed to follow the leading of the Holy Spirit in choosing the courses you take for your degree, since He knows better than we do what knowledge and skills you will need to fulfill the plans He has for you.