PhD in
Doctor of Ministry in Prophetic (Online)
Christian Leadership University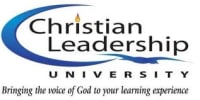 Introduction
Doctor of Ministry in Prophetic Degree Online
This online course is taught in English only.
God has appointed prophets in the Church – men and women through whom He speaks and who declare and interpret His divine will instruct, comfort, encourage and stimulate those with ears to hear.
Do you know that God created you in a very special and unique way because He has a very special and unique place He wants you to fulfill in His Kingdom?
Are you ready to break out of the bondage of ministering the way someone else does and discover the excitement of seeing the Lord do something brand new through you – something that is just as unique as you are?
If so, then a Doctoral Degree in Prophetic Ministry from Christian Leadership University is exactly what you've been searching for.
Curriculum
The fast track to your degree
You are much closer to your Doctor of Ministry in Prophetic than you realize. Bring in up to 50% of your degree through the combination of transcripts from other colleges and a Life Experience Portfolio. Put your past studies and experiences to good use and earn your Doctorate in Prophetic Ministry faster than you ever thought possible!
Earn Your Degree from Home
Obtain an accredited Doctorate in Prophetic Ministry 100% through distance learning.
Prophetic Ministry Degree Fast Start
Earn up to 50% of your Prophetic Ministry Doctoral Degree through the combination of life experience credit and transfers from other colleges.
CLU is #1 in Revelation-Based Learning
Our unique approach is real life, biblically-grounded, revelation-based learning, authenticated by the voice of God.
Available Courses
REN103 Communion With God
COU202 Counseled by God
REN204 Naturally Supernatural
BUS102 Fulfill Your Financial Destiny
PRO201 Releasing Spiritual Gifts
LEA103 Gifted to Succeed
REN206 Increasing the Anointing
COU301 Prayers That Heal the Heart
REN310 Wisdom Through Dream Interpretation
PRO301 Introduction to the Prophetic
Most of the Doctoral degrees require the completion of 40 credits beyond the Master's degree with the option of doing a doctoral dissertation for a portion of the credits. The following degrees require 60 credits beyond the Master's degree, including a mandatory doctoral dissertation: Doctor of Christian Philosophy, Doctor of Divinity, and Doctor of Theology. These credits may come from a combination of 1) courses taken; 2) an original dissertation or ministry project, and 3) a practicum or internship experience. The student is expected to work together with the Dean in designing a program that will meet his desire for growth in the area(s) in which God has placed a passion in his heart.
Courses taken: The student may choose any of the courses offered by CLU. If he chooses an undergraduate course, additional work will be added to fulfill the graduate-level requirements.
Original dissertation or ministry project: This can be an original written work or the creation of ministry work. Uniqueness and/or originality will be key evaluation points of this project. If a written project, it should keep a balance between original textual research (in Scripture and secondary literature) and practical testing of the thesis in real life. Somehow the ministry work or the original written work should add a new perspective to the knowledge and practice of the topic addressed by the thesis.
Practicum or internship: We also encourage a portion of the doctoral degree to be from real-life ministry experience.
Limits: A maximum of 20 credits may be awarded for the total of both transfer credits from other institutions and from credits earned for life experience. Of these 20, no more than 10 may come from credits earned for life experience.