PhD in
Doctor of Divine Healing (Online)
Christian Leadership University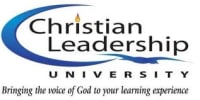 Introduction
Doctor of Divine Healing Online Degree
This online course is taught in English only.
We live in a world where nearly everyone is suffering from some kind of sickness or pain. As a follower of Jesus Christ, you have been commissioned to step forward and do something about it! Demonstrate the love and power of God by healing the sick wherever you go.
Did you know that Jesus' powerful ministry was a result of doing only what He saw His Father doing and saying only what He heard His Father saying?
Do you long to see the same results Jesus did by watching, listening and cooperating with the Father?
If so, then a Doctoral Degree in Divine Healing from Christian Leadership University is exactly what you've been searching for.
A Doctoral Degree in Divine Healing that's worth far more than the paper it's printed on
We believe that experiential knowledge is infinitely more valuable than detached book learning. All the head knowledge in the world will do you little good if you can't make it work in the real world. That's why every step of the way you will be applying what you learn. Each of our Divine Healing courses is refreshingly practical and will guide you step-by-step through the processes and techniques that are used.
Curriculum
The fast track to your degree
You are much closer to your Divine Healing Doctoral Degree than you realize. Bring in up to 50% of your degree through the combination of transcripts from other colleges and a Life Experience Portfolio. Put your past studies and experiences to good use and earn your Doctorate in Divine Healing faster than you ever thought possible!
Earn Your Degree from Home
Obtain an accredited Doctoral Degree in Divine Healing 100% through distance learning.
Divine Healing Degree Fast Start
Earn up to 50% of your Divine Healing Doctoral Degree through the combination of life experience credit and transfers from other colleges or seminaries.
CLU is #1 in Revelation-Based Learning
Our unique approach is real life, biblically-grounded, revelation-based learning, authenticated by the voice of God.
Available Courses
REN103 Communion With God
HEA102 Take Charge of Your Health
REN204 Naturally Supernatural
HEA201 Authority of the Believer
REN206 Increasing the Anointing
REN207 Healing Anointing
COU301 Prayers That Heal the Heart
HEA315 God's Provision for Healing
EVA215 Miracle Evangelism
THE208 Church Triumphant
Most of the Doctoral degrees require the completion of 40 credits beyond the Master's degree with the option of doing a doctoral dissertation for a portion of the credits. The following degrees require 60 credits beyond the Master's degree, including a mandatory doctoral dissertation: Doctor of Christian Philosophy, Doctor of Divinity, and Doctor of Theology. These credits may come from a combination of 1) courses taken; 2) an original dissertation or ministry project, and 3) a practicum or internship experience. The student is expected to work together with the Dean in designing a program that will meet his desire for growth in the area(s) in which God has placed a passion in his heart.
Courses taken: The student may choose any of the courses offered by CLU. If he chooses an undergraduate course, additional work will be added to fulfill the graduate-level requirements.
Original dissertation or ministry project: This can be an original written work or the creation of ministry work. Uniqueness and/or originality will be key evaluation points of this project. If a written project, it should keep a balance between original textual research (in Scripture and secondary literature) and practical testing of the thesis in real life. Somehow the ministry work or the original written work should add a new perspective to the knowledge and practice of the topic addressed by the thesis.
Practicum or internship: We also encourage a portion of the doctoral degree to be from real-life ministry experience.
Limits: A maximum of 20 credits may be awarded for the total of both transfer credits from other institutions and from credits earned for life experience. Of these 20, no more than 10 may come from credits earned for life experience.