Bachelor's in
Bachelor of Christian Leadership (Online)
Christian Leadership University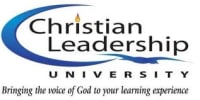 Introduction
Bachelor of Christian Leadership Degree Online
This online course is taught in English only.
God has promised that those who hear and obey His voice will be leaders. Learn the principles and skills that will make you the most effective and influential leader you can be for His Kingdom.
Do you want to fulfill the biblical requirements to rise to a position of leadership?
Are you ready to allow the Spirit to develop within you the character qualities that the Lord wants in His children to whom He has given the privilege of leading others?
If so, then a Bachelor of Christian Leadership from Christian Leadership University is exactly what you've been searching for.
A Bachelor of Christian Leadership that's worth far more than the paper it's printed on
We believe that experiential knowledge is infinitely more valuable than detached book learning. All the head knowledge in the world will do you little good if you can't make it work in the real world. That's why every step of the way you will be applying what you learn. Each of our Christian Leadership courses is refreshingly practical and will guide you step-by-step through the processes and techniques that are used.
Curriculum
The fast track to your degree
You are much closer to your Christian Leadership Bachelor's Degree than you realize. Bring in up to 50% of your degree through the combination of transcripts from other colleges or seminaries and a Life Experience Portfolio. Put your past studies and experiences to good use and earn your Bachelor in Christian Leadership faster than you ever thought possible!
Earn Your Degree from Home
Obtain an accredited Bachelor's Degree in Christian Leadership 100% through distance learning.
Christian Leadership Degree Fast Start
Earn up to 50% of your Christian Leadership Bachelor's Degree through the combination of life experience credit and transfers from other colleges or seminaries.
CLU is #1 in Revelation-Based Learning
Our unique approach is real life, biblically-grounded, revelation-based learning, authenticated by the voice of God.
Available Courses
Communion With God
Developing the Leader Within
Apprenticed to Leadership
Gifted to Succeed
Naturally Supernatural
Fulfill Your Financial Destiny
Take Charge of Your Health
Creating Your Mission Statement
Cornerstones of Communication
Increasing the Anointing
Building Dynamic Teams
New Trends in Management
Visionary Leadership
Bachelor Degrees require a total of 120 credits of work. This is generally the first level of higher education after high school, and because of the large number of credits required, tends to provide a broad-based foundation in a number of subjects.
At CLU, after you take REN103 Communion with God, you will be allowed to follow the leading of the Holy Spirit in choosing the courses you take for your degree since He knows better than we do what knowledge and skills you will need to fulfill the plans He has for you. Therefore, you may find that you select courses from nearly every concentration, with one area, in particular, having your strongest interest and therefore drawing the most courses from it.
You may bring in up to 60 credits toward this degree through transcripts from other schools or documented life experience.