Bachelor's in
Bachelor of Christian Counseling (Online)
Christian Leadership University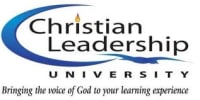 Introduction
Bachelor of Christian Counseling Degree Online
This online course is taught in English only.
Put the voice of God at the center of your counseling and become a vessel of His divine healing power.
Is your heart heavy at the end of a day of counseling because you have spent so much time listening to tragic stories of fear, pain, and loss?
Are you ready for the refreshing and vitality that you can feel at the end of a day spent together with your clients in the Presence of the Counselor Who can bring them healing and release?
If so, then a Bachelor's Degree in Christian Counseling from Christian Leadership University is exactly what you've been searching for.
Curriculum
The fast track to your degree
You are much closer to your Christian Counseling Bachelor's Degree than you realize. Bring in up to 50% of your degree through the combination of transcripts from other colleges and a Life Experience Portfolio. Put your past studies and experiences to good use and earn your Bachelor's Degree in Christian Counseling faster than you ever thought possible!
Earn Your Degree from Home
Obtain an accredited Bachelor's Degree in Christian Counseling 100% through distance learning.
Counseling Degree Fast Start
Earn up to 50% of your Christian Counseling Bachelor's Degree through the combination of life experience credit and transfers from other colleges or seminaries.
CLU is #1 in Revelation-Based Learning
Our unique approach is real life, biblically-grounded, revelation-based learning, authenticated by the voice of God.
Available Courses
COU202 Counseled by God
COU203 Cornerstones of Communication
COU301 Prayers That Heal the Heart
COU305 Parenting for Success
REN103 Communion With God
REN105 Father Heart of God
REN204 Naturally Supernatural
REN206 Increasing the Anointing
REN207 Healing Anointing
REN310 Wisdom Through Dream Interpretation
Bachelor Degrees require a total of 120 credits of work. This is generally the first level of higher education after high school, and because of the large number of credits required, tends to provide a broad-based foundation in a number of subjects.
At CLU, after you take REN103 Communion with God, you will be allowed to follow the leading of the Holy Spirit in choosing the courses you take for your degree since He knows better than we do what knowledge and skills you will need to fulfill the plans He has for you. Therefore, you may find that you select courses from nearly every concentration, with one area, in particular, having your strongest interest and therefore drawing the most courses from it.
You may bring in up to 60 credits toward this degree through transcripts from other schools or documented life experience.