MSc in
Engineering Management MSc online
Brunel University London
Introduction
Engineering Management MSc online
The Engineering Management MSc online programme provides you with advanced knowledge of the latest engineering management issues and the management techniques needed to create successful strategies and results.
Combining academic theory with practical know-how, the programme will help you navigate the full range of management competencies required in the field, including systems thinking, operations, human resources, and the design and management of the supply chain.
You will also learn about managing finances and assets within the engineering industry, and understand the principles of global marketing and customer service. At the end of the programme, you will have developed a wide range of transferable skills which are highly sought after by employers.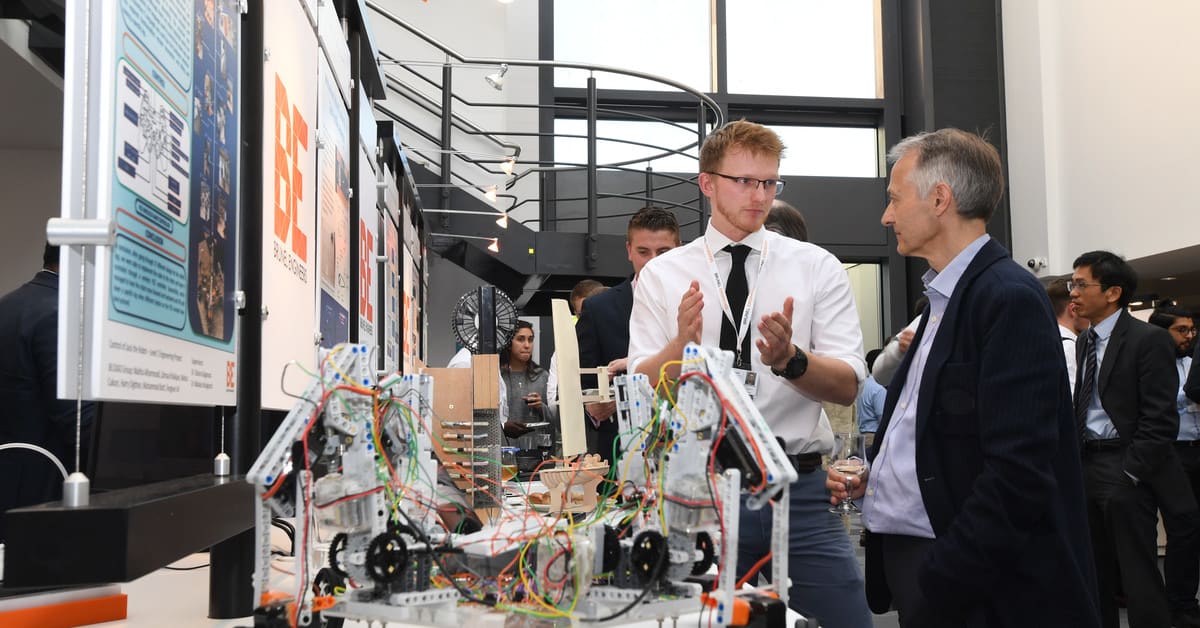 About Brunel University London
Brunel University London takes its name from one of Britain's most influential engineers, Isambard Kingdom Brunel. Our alumni continue to follow in his footsteps in the field of civil engineering, as well as working across the manufacturing, service, and government sectors globally. Brunel's 'International Outlook' is recognised as amongst the best in the world, ranked 28th in the 2021 Times Higher Education World University Rankings, and we are dedicated to helping you develop the academic and personal skills needed for success in the real world.
Study Online
Studying online gives you the opportunity to earn an internationally recognised UK master's degree without leaving your home. You are not obliged to attend campus lectures, meaning you can watch them on the online platform at times that work for you. During the course of your studies, you'll have access to:
Engaging study materials: Your resources will include video lectures, case studies, class forums and podcasts.
Support and guidance: Your dedicated programme tutor will guide your academic development from day one.
Your virtual campus: Study from any location and build connections with like-minded professionals worldwide.
Open Library: Online students will have full access to Brunel's expansive digital library for books, articles, and electronic resources.
By studying your degree online, you'll join a network of students and professionals around the world, learning and connecting to enrich their lives, and taking the next positive steps towards rewarding careers.
Students will also have access to Brunel's Professional Development Center (PDC). The Professional Development Centre boosts students' employability by helping them develop the skills and experience needed to stand out in the international job market and prepare for an impactful career.
Recently voted by students as the 5th best Careers Service in the country, Brunel's Professional Development Centre has garnered respect for its experienced staff and exceptional career support. Brunel's PDC team guides students through the stages of developing and reaching professional goals and assists with writing effective applications and preparing students for interviews. Every year, the team coordinates career fairs and industry-specific events for students to meet and network with potential employers in their chosen field.
Modules
All modules are worth 15 credits.
Research Methods for Engineering Projects
Managing People and Organisations
Project Management
Systems Modelling and Simulation
Logistics and Global Supply Chain Management
Quality Management and Reliability
Advanced Measurement Systems and Data Analysis
Financial Management
Research Project (60 credits)
Learning Outcomes
Graduates of the Engineering Management MSc online will possess:
A wider understanding of the structures of engineering organisations and the role, relationships and behaviour of individuals, and groups undertaking engineering activities.
An explanation of how current management theories and practices are relevant to achieving corporate competitive advantage.
An understanding of the way in which finance and assets are managed within the business.
A mastery of the concepts and principles of marketing and customer care.
The ability to develop a corporate strategy for successfully achieving an engineering-driven change by applying current concepts, theories, and research.
Career Pathways
Graduates of this master's programme can go on to work in a wide range of rewarding and challenging roles in the engineering sector. Recent alumni have gone on to work for leading companies such as Jaguar, Land Rover, Rolls-Royce, Atkins, Ford, and Unilever, and a number of graduates have set up their own consultancy companies.
A few examples of the careers graduates may choose to explore include:
Processing Engineering Manager
Automation Engineering Manager
Quality Manager
IT Manager
Director of Hardware Engineering
Supply Chain Manager
Engineering Project Manager
Plant Manager
Entry Requirements
A 2:2 (or above) UK Honours degree or equivalent internationally recognised qualification in an engineering, science or technology subject.
IELTS: 6.5 (minimum 6 in all areas)
Pearson: 58 (51 in all subscores)
BrunELT: 65% (minimum 60% in all areas)
TOEFL: 92 (minimum 20 in all)
Duration
1 year full-time, 2 years part-time
English Language Requirements
Certify your English proficiency with the Duolingo English Test! The DET is a convenient, fast, and affordable online English test accepted by over 4,000 universities (like this one) around the world.